Why There is a Strong Demand For Massage Therapists in The UK?
The massage and spa industry has grown rapidly over the last decade, and statistics show job opportunities will most likely continue to increase by 18 to 26 percent from 2020-2023. Among the reasons for the growing demand for massage therapists, there is a growing acceptance of massage as a medical tool. Younger British people appreciate the effectiveness of massage at reducing stress through relaxation and the growing segment of older Brits are experiencing specific therapeutic benefits. The willingness of the medical provider and insurance industries to recommend and cover the costs of massage therapy is another growth factor. Whether the reason is medicinal, therapeutic, or just a special occasion people look forward to getting massages. Unlike going to the dentist or doctor, seeing a massage therapist is a positive experience associated with feeling good.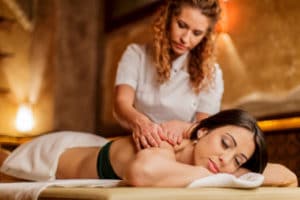 What It's Like to be a Massage Therapist
Massage therapy students study anatomy, physiology, kinesiology and other subjects covering the structure and function of the human body. There are dozens of unique approaches to massage ranging from techniques that focus on a specific area of the body to techniques that approach the body holistically and consider both physical and mental aspects of health and relaxation. Students must understand how the body works and moves and how the various systems relate and interact. Students also train in the various massage types, and learn the techniques associated with each form of massage offered by the training institution.
Being massage therapist is not an easy job but if you are considering becoming a massage therapist, you probably already know that there are many benefits of a massage therapy career.
Most massage therapists are self-employed and own their own massage business in the UK, allowing them to set appointments around their own schedule. Being able to make your own schedule is a huge advantage for most who are considering becoming a massage therapist. The balance are independent contractors or are employed by businesses that offer massage services. These include spas, health clubs, medical offices and sports organizations. Now that you know the benefits of becoming a massage therapist, get the training you need to pursue a rewarding career in this field by finding suitable training and enrolling in the Massage Therapy program.
Good luck!